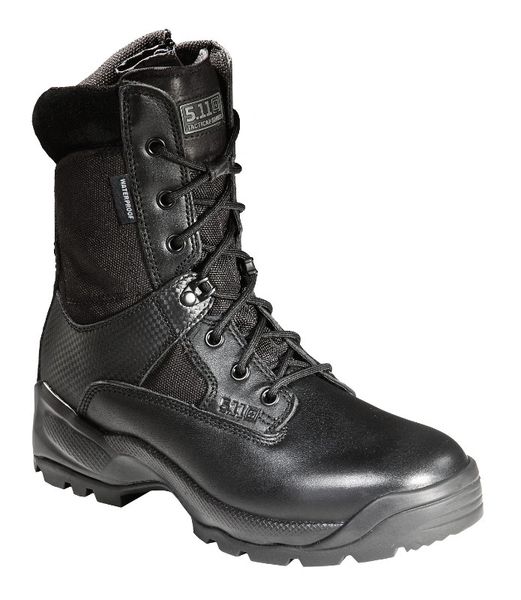 A.T.A.C. 8" Storm
Purpose Built
The A.T.A.C.® Storm is a hard-working, hard charging tactical boot that provides optimal speed, agility, and tactical functionality across a broad range of operational environments. Built to satisfy the needs of military, law enforcement, and special tactics teams throughout the world, the 5.11® A.T.A.C. Storm is crafted from durable, breathable nylon and full grain high-shine leather for a clean, professional appearance. Integrated side zip entry allows quick on and off, while a moisture wicking anti-bacterial lining, integrated mesh vents, and generous open cell foam cushioning provide breathable comfort in any climate. A hidden pocket at the ankle adds tactical utility, an oil-resistant no-squeak sole provides stealth and traction, and semi-rigid heel and toe reinforcements offer added protection and a stable stance. A waterproof design offers protection against blood-borne pathogens*, and like all 5.11 A.T.A.C. Boots, the Storm series incorporates our trademark 5.11 Shock Mitigation System® to maximize compression and rebound, enhancing stamina, speed, and momentum control over any surface.
Overview:
Rugged, reliable, comfortable
Side zip functionality
Covert tactical pocket
Waterproof/blood-borne pathogen resistant
Polished leather toe
5.11 Shock Mitigation System
Antibacterial and moisture-wicking lining
Cushioned insole
Oil and slip resistant, no-squeak outsole
Semi-rigid heel and toe reinforcement
Specifications:
Full grain leather and rugged nylon construction
Generous open cell foam cushioning
Hypertext lasting board
Non-metallic shank
Injection molded phylon midsole
YKK® zipper hardware
Stay-tied sausage laces
*Blood-Borne Pathogen Resistance Disclaimer:
If indicated, an independent laboratory has tested this product and has found that the materials and seams provide passing results when tested in accordance with ASTM F 1671, Standard Test Method for Resistance of Materials Used in Protective Clothing to Penetration by Blood-Borne Pathogens. It is important to note, however, that, even though garment materials and seams may satisfy the standards of ASTM F 1671, it might not provide an adequate barrier to viruses in all conditions and our products will not protect the wearer from all blood-borne pathogens and viruses under all conditions.
All end users will need to assess the specific hazards in their workplace in order to determine the appropriate types and levels of personal protective clothing and equipment that they might need. To maintain proper performance, 5.11® products must be maintained in accordance with the care instructions on the product label.
Please visit the ASTM International Standards website for further information regarding ASTM F 1671.